Very often I'm in the argument about quality or even more vague: beauty in Kinbaku. Why is this tie more beautiful than another? Why does this picture look good and the other not? What is a good performance? And, why do I think that this "educator" is good and another is bad? Some people claim that since there is no objective criteria for quality, only the individual experience counts. And who is there to judge an individual experience?
I guess this argument is as old as art, and maybe our ancestors already had their gossips about the amazing (or not!) representation of their prey at the walls of their caves tens of thousand years ago.
I really want everyone make the most amazing individual experiences, but I also believe that in the moment they are presented to public (even more in "social" media) as art, it also initiates the public discourse about its quality. And having this discourse is normal and downright necessary for the evolution of arts. Not every expression can pass the threshold into the arts.
If we shut down this discussion, we will be drown in a flood of mediocrity. If we deny there are any quality criteria exist, the competition for attention will be won by those who know how to manipulate the system better… the system of social media, for instance.
Quality is very hard to define, but everyone sees if its there!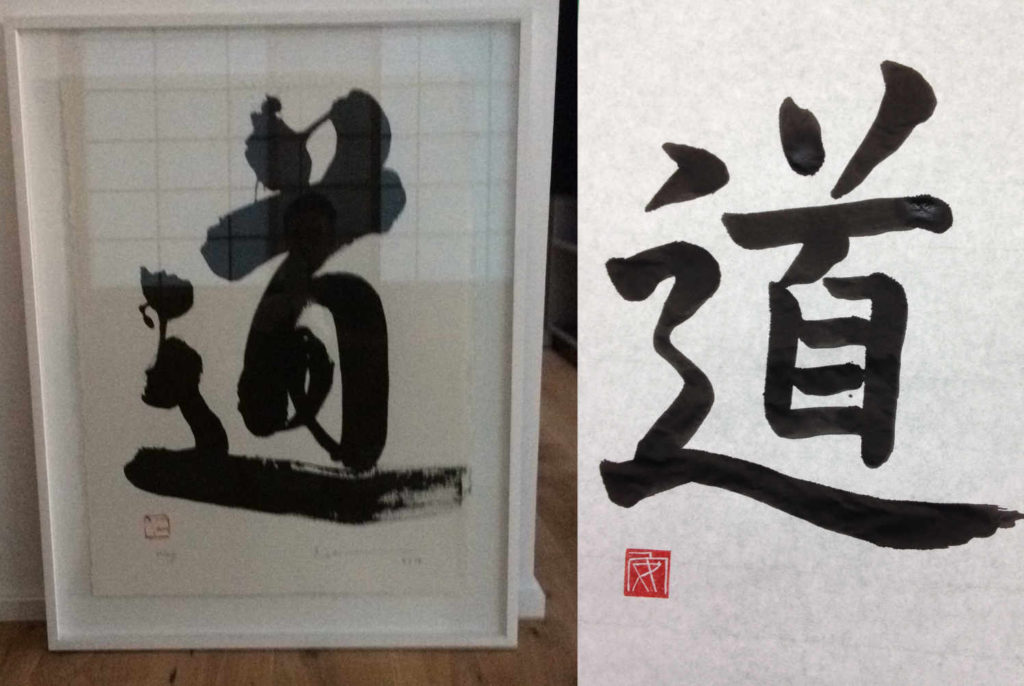 So, let's have a look at this so difficult to grasp "quality". This is the calligraphy of the Kanji "DO" – Path, as used in Japanese arts for the way of practical and spiritual development, such as in Aikido or Chado. The left one is drawn by Kazuaki (KAZ) Tanahashi, an international renowned Calligrapher. It greeted me for many years on my way from the locker room to the tatami practicing Aikido. The other one is drawn by an enthusiastic amateur after about 20 hours of practice. I don't know how Kaz feels when he draws, but definitely I was super happy and delightful to manage the right stroke order of the so (for me) important character and to get some approval and praise from my teacher. Is it art? I don't think so! Is it a good calligraphy? I don't think so, either. I guess everyone can see the difference. It is exactly that: a difference in quality. There is a lot more subtleness to add, a lot more to learn, to understand, to know in my gut-feelings. If I would strive to become a good calligraphy artist, I would need to practice a lot more. I would need to study the old masters. I would need to get guidance from teachers and mentors. This is the path (sic!) in a crafts based art.
But let's get closer to Kinbaku. Last year we had the privilege to witness a total of three sets by the master of Kinbaku photography, Sugiura Norio during a marvellous workshop on "Aesthetics of Kinbaku" in Copenhagen. His images – loaded directly from the camera, projected onto the screen – already had a magical shine, without any post-processing whatsoever. The other five selected photographers did a great job, as did all the models, the riggers, and the assistants in five teams. Hence, we are a long way from Master's magic, even though we had the same conditions and him directing every single shot. The pictures – done by renowned European Kinbaku photographers, such as Clover or Amaury Grisel were good, but had not the same shine. The difference in quality was visible to all of us. There was no doubt. Hence, it was very difficult to explain (we asked!)
I want to share another piece of the story. Besides the demonstrations, there were five teams to work on their own sets, under Sugiura's guidance. We were 30 people in a small room, with three headlights. It was hot and humid. We all were sweating. Above all, the riggers felt the pressure to materialise the masters artistic vision in safe and effective ties in minimal time. I was one of them – sweating, shaking. Four of us were sweating, shaking… WykD Dave was also sweating, but he managed to do a complicated pattern at Natasha's legs without pinching her once. I often don't manage not to pinch her under much better conditions. Would I grant Dave's finger-work and rope flow a higher quality than mine? Yes, hell, yes!
And hurray – we have even an objective criteria. Engineers, like my friend Andrea Kurogami might even feel tempted to create the dimensionless WD number as number of pinches divided by the number of passages made. Riccardo Wildties teaches that a good bondage must be technically excellent, beautiful and an expression of personality. Let alone for a moment beauty and personality, surely we can define criteria to distinguish good bondage from bad one. Criteria will be for instance:
Does the tying person masters flow and tension?
Can they apply the tie to different body types?
How fast can a pattern be executed with consistent quality?
Is "waste" avoided, e.g. unnecessary frictions and passages?
So, now all these are of course not mathematical, scientific criteria. What is a "good" tension, after all? But I want to argue that if even not completely scientific, it is not arbitrary. Even more, the same thing has not the same quality in every situation. Rope tension might be very low because the Japanese master wants to have it slipping because it is "more beautiful" in his eyes, whilst a sloppy tie is just a sloppy tie. In the first case, it is intentional.
Quality is never an accident; it is always the result of high intention, sincere effort, intelligent direction and skillful execution; it represents the wise choice of many alternatives.

William A. Foster
Picasso could perfectly and skilfully paint realistic pictures. He just decided he doesn't want to for the most of his career. Just to scribble on a piece of paper is not the same quality and not art. Same goes for Rope Bondage. There is a difference if you don't know how to properly finish a tie and out of that incompetence just let the rope "spaghetti" hanging or when you deliberately and artfully create a messy style. To call it a "preference" you must be capable to perform the opposite. Otherwise it is really just "incompetence".
When it comes to beauty or even more delicate: personality, of course, things become more fuzzy. Our criteria might even change over the centuries or in-between cultures – a bit. But, I guess, most of us human beings are still in line with the aesthetic quality criteria the architects of greek temples applied as we are in line with the vision of DaVinci, Michelangelo, Botticelli, and other artists. Even when we cannot define it in objective terms, most people can develop a taste and with it a sense of judgement for artistic expression.
In the segment of craft based arts (the only one I talk about here), the following elements contribute to an overall, perceived, quality of expression in my view:
Subtleness and richness
Reduction to the essence
Expressiveness
Harmony
Personality of the artist
This is what distinguishes the pictures of Sugiura from the other five photographers in the room, this is what makes Kaz a great calligrapher and me just a guy managing a stroke order and some basic rules.
For me personally, pulling the card of "personal preference" and the denial of any quality criteria is a sign of lacking humbleness. This is the easy way out. It is also a sign of impatience. It applies to art and rope bondage alike. All great artists kept striving, kept developing. Hokusai expressed this humble striving with these words:
Since the age of six I have had the habit of sketching forms of objects. Although from about fifty I have often published my pictorial works, before the seventieth year none is worthy.

Hokusai
This is, by the way, also true for great martial art teachers, great scientists, great musicians, great dancers, or even for great spiritual teachers. To stay alive, as an artist and human being, you must stay curious, question your "knowing" and keep practicing.
So, when I say: "This is a bad tie-off" I don't mean: "You are a worthless idiot". I just mean: "Maybe you need to train more". This is a different message! When you stay on the path (DO), then your bondage will become better, of higher quality – and maybe even: art.