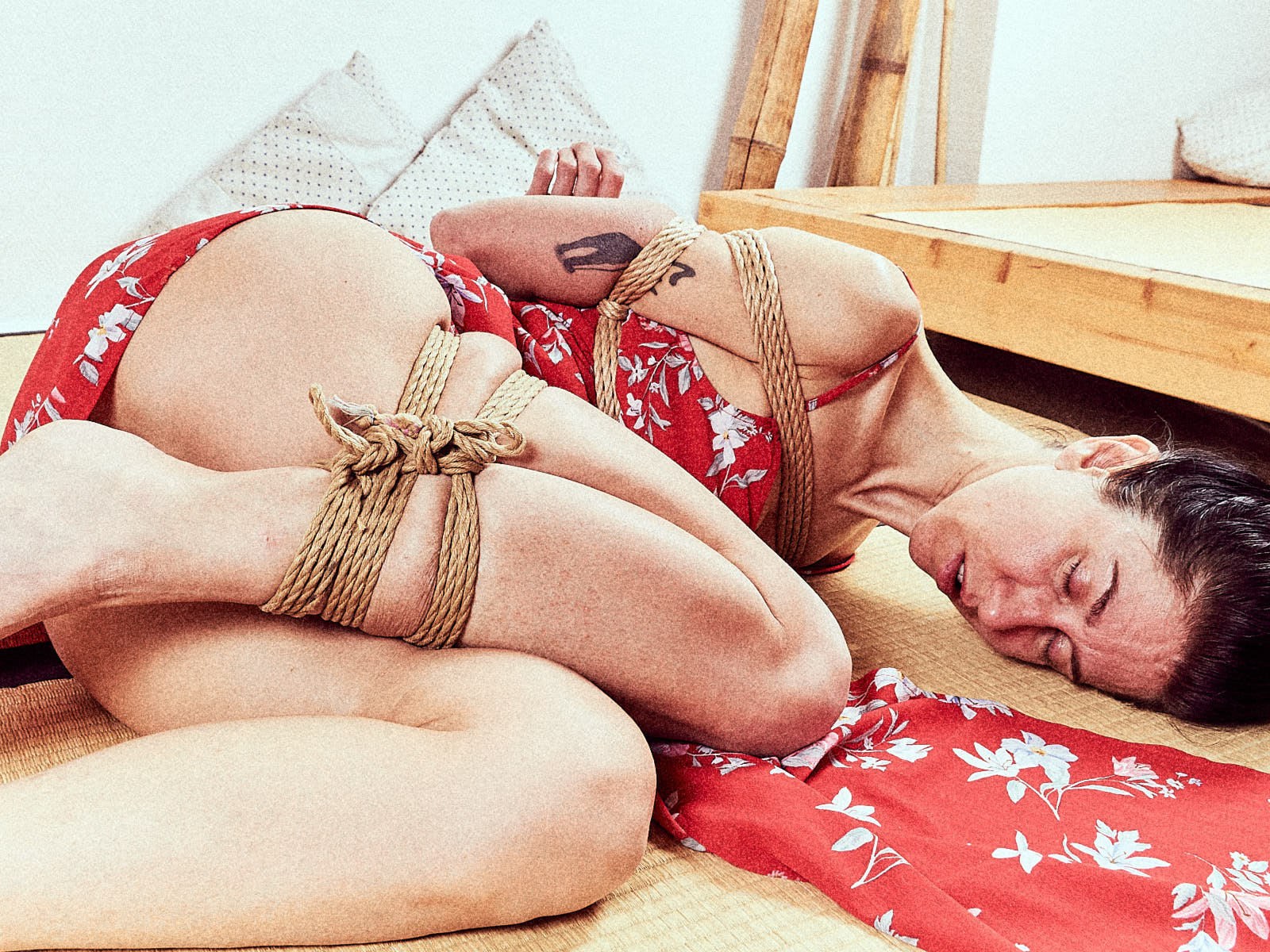 Elements of Semenawa
Semenawa is what always inspired us to keep going with Kinbaku. For us, Kinbaku and Semenawa are actually synonymous. We use ropes to create a challenge for our partner, a torment – a torture, but as loving partners in a consensual way. In our definition, Semenawa is about creating an intimate and intense rope session. A physical and mental challenge is created in order to influence an emotional state of the person in ropes.
Since 2016 we studied exclusive this branch of Japanese Rope Bondage, its concepts and philosophy, its history, its masters.
With the two-day weekend workshop we make an offer for interested venues and communities to invite us to share our passion.
Introduction to the Elements of Semenawa
In this Weekend Intensive, we will give an insight into our interpretation of Semenawa.
The philosophy and techniques of our Kinbaku are based on the art of Akira Naka and the system of Riccardo Wildties, our teacher. We will introduce our elements system, which includes the basic principles, patterns and figures to tie safely and effectively.
But we don't focus on the forms alone. We will question your intention and give impulses how this intention can be translated into specific ties in order to create maximum effect for the person in the ropes. We will emphasise movement, control, (non-verbal) communication, emotional and physical limits, as well as intention based consent. The goal is for you to be able to create beautiful shared moments in ropes.
This is a practical workshop: you will tie and get tied a lot.
Whom is it for?
Students should have a solid basis before starting to deal with more complex rope bondage and taking more risk, e.g. in suspensions or challenging body positions. Therefore we require literacy in the fundamental principles, as delivered in our "Discover Kinbaku" beginners workshops and some practice and experience in rope bondage applying these principles. As a measure, riggers should be familiar with a simple gote and be capable to tie 1-2 rope patterns in less then 5 min. Models should have some experience in rope bondage, and have learned to attend to their bodies whilst being tied.
Bring along: Clothing to your taste, suiting your mood for intense rope bondage and at least 12 jute ropes, 5 or 6 mm, 7 – 7.6 m long
For Riggers…
building on the previous learned basic principles of Kinbaku
understanding the concepts and philosophy of Seme-nawa
safely mastering the first semi- and full suspensions in our style
understanding important non-technical aspects, such as communication through rope and tools to create a shared experience of intimacy
gaining confidence in your abilities and self-confidence for application in private or at a Jam
For Rope Bottoms…
bringing attention to your body, to your feelings and sensations
gaining safety in (semi) suspensions by learning to give in to the force of gravity
getting familiar with a rope impact and learning to enjoy it
developing a feeling of your emotional and physical limits and positively communicating them
unlearning common myths about being a rope bottom
understanding your responsibility in ropes
Content
Kinbaku & Seme-Nawa: History and philosophy * General remarks on safety * Consent and communication between the partners * Different qualities of contact * Bondage without rope: taking control * Exercises to connect with your partner * Developing Patterns from the basic Principles (Wrapping, Friction, Single- and Double Column Tie) * Kinbaku LuXuria Gote * Basics of floor work * Adding gravity: moving towards (semi) suspension * Effective methods for moving and controlling the partner * Forming the body: expansion, compression and torsion * Influencing feelings and moods through position * Introduction to the game of shame or pain * Materials
Testimonials
Great atmosphere, organization, and transfer of skills. Highly recommended.
Well-structured teaching and a lovely venue, I really enjoyed the workshop of these kinbaku wizards
Nice workshops.....relaxed, friendly, and good handcraft skills....well structured Naka-style-shibari... 
I really enjoy their teaching style: Inclusive, specific and practical, inviting reflection and willing to reflect and learn which makes for great teachers, great communication, very warm and inviting atmosphere.