Elements of Semenawa
We are students of Kinbaku LuXuria in the art of Semenawa by Akira Naka. We have developed our own interpretation of the style based upon that. And this is what we share exclusively with our students above the beginners level. We address couples who have a specific interest in this style and who are willing to go deep into it with us. For us it is essential to teach Kinbaku as a holistic system, covering technique and non-technique, body and mind, theory and practice, history and contemporary developments, elements for Riggers and for Rope-bottoms.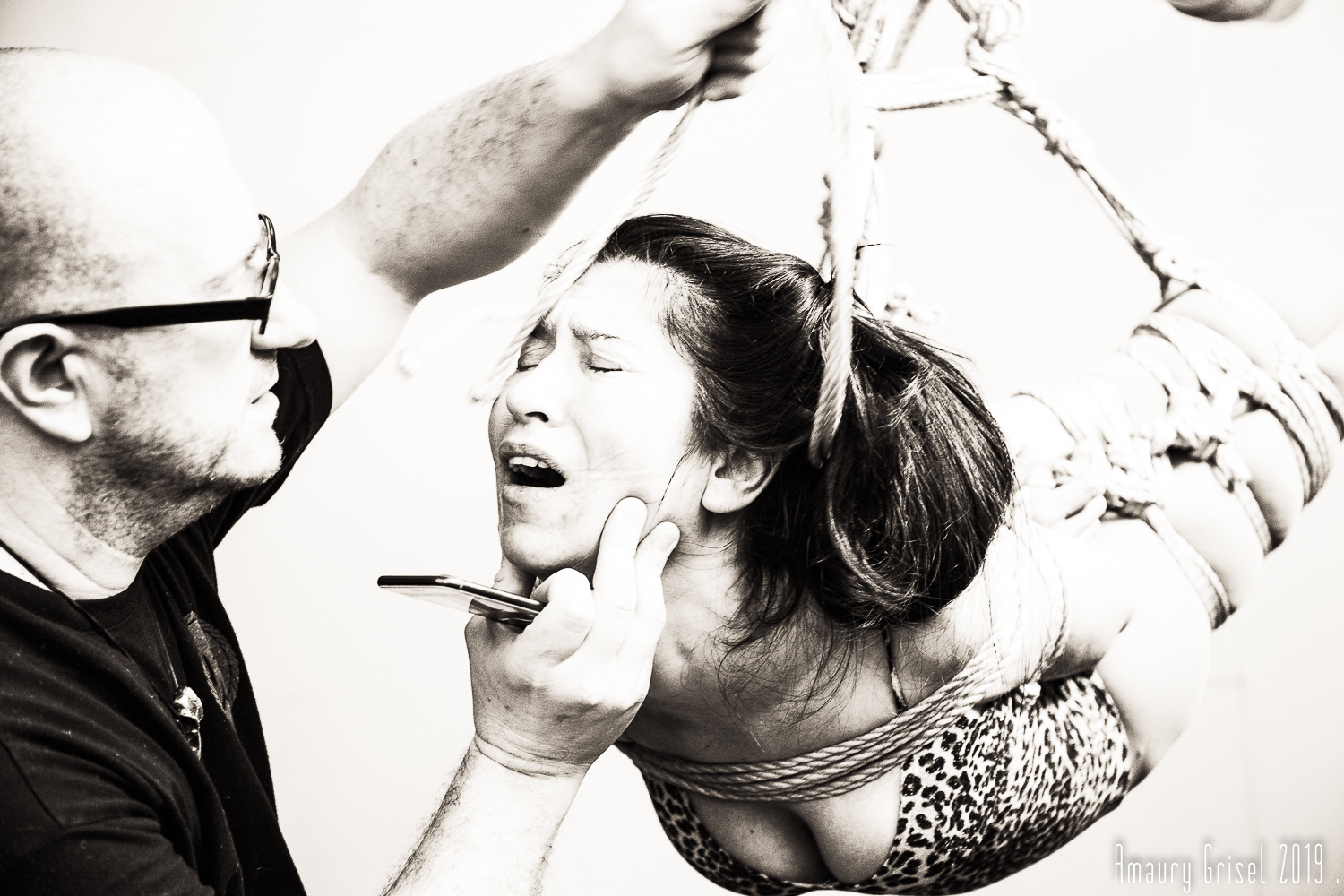 Content
As teaching is for us about guiding and curating through the complex matter, we structured it into a system of Elements, inspired by the classical Western Alchemic system. Like Alchemy, Kinbaku is transformative practice for us. It's about initiating inner processes, developing oneself, making a positive change. The rope becomes a kind of philosopher's stone. In the rope, with the rope, you cannot hide – at least not when you approach Semenawa with honesty. It will likely change you and your relationship forever.
The system is giving the opportunity for the Riggers to practice the principles and patterns as well as for the Rope-bottoms to develop the relevant somatic skills.
When you really want to go deep into the rabbit hole of "Semenawa", we will be there for you with an individual offer. Check our Private Xclusive page or write us for more information or invite us to your community to teach an introduction to the "Elements of Semenawa" as a weekend intensive workshop.
EARTH is the basis. At first, one needs to learn the fundamentals and the most basic techniques such as: stable Gote, basic harnesses, positions and figures. The basic semi-suspensions and suspensions of the style, e.g. forming the bodies into S-shape and Kata-ashi positions are part of this element. The bottoms need to practice patience most of all whilst the riggers practice and master basic techniques. In EARTH, both partners are laying down the fundament for their erotic bondage.
The element WATER contains everything that flows: Body and Rope handling as well as better understanding of the dynamic in a scene and the aesthetics of the style. For Bottoms the topics are Centering & Grounding, Placement of Attention, and Communication in ropes. In Water, both partners become more flexible and adaptable in Semenawa.
EART and WATER both are more technical, obvious, on the surface: "Omote".
The element of FIRE adresses the mindset for Semenawa. On the basis of the techniques, the focus goes to Intention and Emotion. More complex and challenging positions create an impact on the somatic body of the person in ropes. Riggers start to use their intention to create a scene, using tools of space (Ma-ai) and timing. Rope-bottoms learn to grow stamina in challenging positions as well as understand their limits or how to distinguish between "good" and "bad" pain and how to deal with it. In FIRE, both partners become more conscious of their Intention in Semenawa whilst adding intensity to their play with Power and Surrender.
Finally, the element AIR, a new freedom is gained. Your bondage and your expression in ropes can become free and creative again. You have all the advanced tools for how to develop a scene and how to create individual aesthetics. The Rope-bottoms have develop a personal and playful attitude towards Semenawa and their personal expression and communication style. In Air, both partners are becoming free from the taught patterns or concepts and start exploring their personal learning edge.
We believe, the content in FIRE and AIR cannot be taught – it can just be shown. Our path is not your path. Nothing is obvious. The truth is hidden behind the surface: "Ura"
2x 6 hr Weekend Intensive
Fee: 350 € per couple, incl. VAT
This is for couples who are serious with getting into semenawa with us. You will learn the essential technical and non-technical principles of Kinbaku LuXuria Style Naka Ryu in our interpretation.
This workshop will be on Earth to Water level and deals with a good Gote as the basis for first applications of the basic principles in alredy challenging figures on the ground and in semi- and full suspension.
Above all, you learn to apply these patterns to create a shared experience in your erotic play. On the bottom's side, we introduce the foundational skills of placing the attention to the body and strengthening your own core.
Weekend Intensive, Level II
2x 6 hr Weekend Intensive
Fee: 375 € per couple, incl. VAT
This is for couples who want to go even deeper into semenawa with us. You will deepen the already known technical and non-technical principles of Kinbaku LuXuria Style Naka Ryu in our interpretation and learn new ones.
This workshop will be on Water to Fire level and will add some challenge both to riggers and models. We will work on creative applications of waist rope, interesting variations of the known positions and introduce arm binders and how we play with strappado positions.
Above all, we want enable you to apply these patterns to create a shared experience in your erotic play. On the bottom's side, we introduce tools to growing stamina in challenging positions by breathing, relaxing and centering techniques.
Testimonials
Great atmosphere, organization, and transfer of skills. Highly recommended.
Well-structured teaching and a lovely venue, I really enjoyed the workshop of these kinbaku wizards
Nice workshops…..relaxed, friendly, and good handcraft skills….well structured Naka-style-shibari… 
I really enjoy their teaching style: Inclusive, specific and practical, inviting reflection and willing to reflect and learn which makes for great teachers, great communication, very warm and inviting atmosphere.
FAQ
I am a total beginner in the rope. Is the workshop suitable for me?
The workshop Seme-nawa is not suitable for total beginners. In order to be able to participate really intensively and also to achieve the maximum effect for you, the partners on both sides of the ropes should certainly master a Takate Kote / Box tie and other basic Kinbaku patterns.
I don't have a partner. Can I still participate?
The workshop is consciously designed for couples. Even if you do not have a fixed partner yet, put an ad in the usual suspects' platforms and there will surely be someone who wants to share the experience with you.
Is switching allowed?
Switching is not "prohibited", but the program is designed so that there will be no time to do the exercises twice in a time-slot. We do not want the non-switchers to get bored … Since the principles are repeated in different exercises, you can, of course, do the exercises alternating if both partners want to actively learn.
My body is not as flexible as the models on the internet, can I still attend the workshop?
Yes. Seme-nawa is the play on the border of the individual possibilities of the person in the ropes, not the execution of fixed techniques. It is important for the passive partner to be willing to surrender in the rope for the limited time and for the active partner to deal responsibly with this gift. We will practice the necessary techniques and principles in the workshop.