For Beginners: Discover Kinbaku
We are very enthusiastic about teaching absolute beginners. It is great fun to see people grow, dare – and play! – after they understood the few basic principles of Japanese rope bondage.
You want to explore Japanese-inspired rope bondage, but don't know where to start? Then our workshop offers are exactly for you. Our offer is for couples (of all ages and gender constellations) who are (absolute) beginners and want to learn simple principles to engage safely, effectively, aesthetically and playfully to find intimacy in the rope play together. You can apply the learned patterns directly for your play in private or on a Jam. We address both partners who take an active, albeit different, role.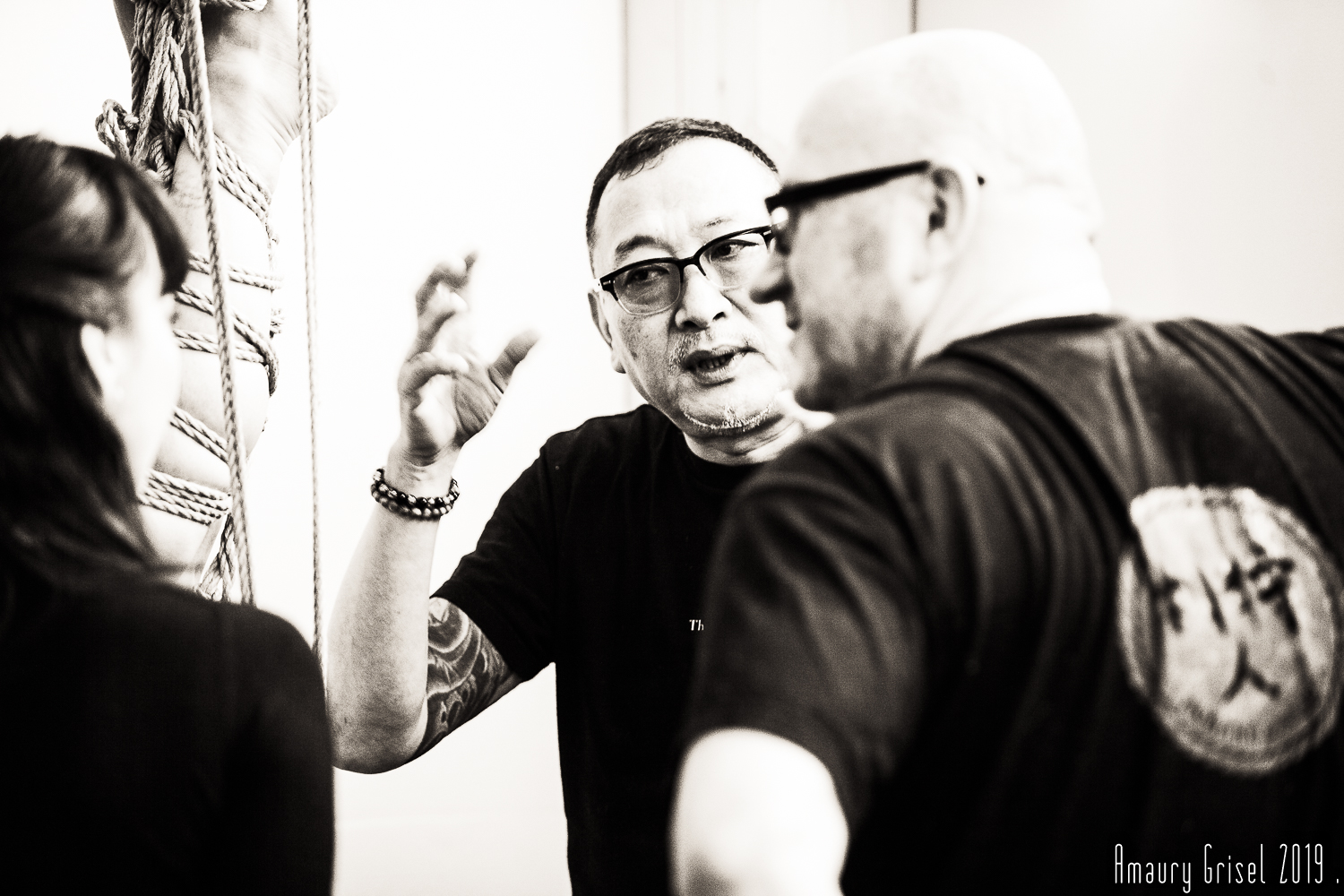 Content
In our beginners workshops, we introduce the essential principles of Japanese Bondage. Very fast, you will learn how to combine them, developing "real" patterns for play with your partner. We will emphasise movement, control, (non-verbal) communication, emotional and physical limits, as well as safety and intention based consent. The goal is for you to be able to create beautiful shared moments in ropes.
We offer practical workshops: you will tie or get tied a lot.
Intro Evening
3 hr Introduction into Rope Bondage
Contribution: 30 € per person
This introductory workshop is for all people who are interested in Bondage and want to learn about how to get started. We will cover some important topics about intentions, consent and safety. But most of all: you will lern your first tie!
Come as you are – you don't need rope nor a partner. You can partner up with another enthusiastic person at the workshop. Wear comfortable, flexible clothing. We have (freshly disinfected) ropes to lend.
Weekend Intensive
2x 6 hr Weekend Intensive
Fee: 350 € per couple, incl. VAT
This is for couples who are serious with getting the right start into their rope bondage. You will learn the essential technical and non-technical principles of Japanese rope bondage, as well as simple but effective patterns, including first harnesses for upper body and legs.
Above all, you learn to apply these patterns to create a shared experience in your erotic play. On the bottom's side, we introduce the foundational skills of placing the attention to the body and strengthening your own core.
What participants say…
Very thorough classes with a good energy in teaching and communication. Thank You again.
A very nice and cozy place, the team taking care of it is awesome and welcoming. The room where you practice is very Japanese looking and really ads up to the experience. Great professionals and workshops a must go to place.
A beautiful and special place. The workshops at Discover Kinbaku are no shallow or chaotic fast food, but well thought-of concepts with a learning theory behind it, which doesn't only cover knots and patterns, but e.g. also interpersonal dynamics, communication and the side of the rope bottoms. All in a respectful, welcoming and open atmosphere, and the team has a lot of valuable experience to share. Would love to attend more classes in the future!
FAQ
I am a total beginner in the rope. Is the workshop suitable for me?
Absolute. There is no precondition to participate, except curiosity and desire to learn about Kinbaku.
I don't have own rope. Can I still participate?
Absolute. We have ropes for you, which you can use during the workshop. We can also talk about qualities, prices and sources if you want to buy ropes.
I don't have a partner. Can I still participate?
Depends: For the Intro-Evening, come as you are. You can couple up with another Bondage enthusiast for teh excercises or tie your own limbs. The Weekend Intensive is consciously designed for couples. Even if you do not have a fixed partner yet – this is Berlin! Put an ad in the usual suspects' platforms and there will surely be someone who wants to share the experience with you.
Is switching allowed?
Switching is not "prohibited", but the program is designed so that there will be no time to do the exercises twice in a time-slot. We do not want the non-switchers to get bored … Since the principles are repeated in different exercises, you can, of course, do the exercises alternating if both partners want to actively learn.
I have a partner who is a lot heavier than me. Do I learn to better control and move him?
Yes, the partner's control on the ground, inspired by Judo / Aikido techniques, is addressed and practiced in the workshop.